M a r k e t N e w s
Qatar Airways to Start direct Flights to Mombasa
Posted on : Wednesday , 12th September 2018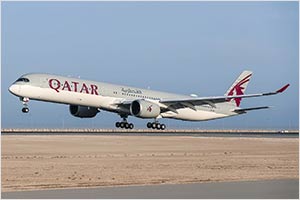 Qatar Airlines will launch direct flights to Mombasa, Kenya's second biggest city. Expected to happen in December, the move will increase the competition for local carriers.
After Nairobi, this is the second destination in Kenya to receive the service. The airlines will undertake a four times weekly flight from Doha to Mombasa. Airbus A320 will be used for this operation, with 12 business class seats and 120 economy class seats. The flight time expected is an approximate of six hours.
The State-owned airline joins international carriers such as Ethiopian Airlines, Turkish Airlines and RwandAir, which currently fly directly into the coastal city. These carriers are seen as a direct competition for the Kenya Airlines (KQ), which until recently dominated the international transfers between Mombasa and Nairobi.
Unlike these airlines, KQ follows a route that has to pass through Nairobi before moving ahead to Mombasa thus making the Qatari entry, a competitive threat to its business plan.
Mombasa is a popular getaway, especially its coral reef diving and white sand, making it Kenya's main costal tourist destination. Its diverse cultural mix and old town charm makes it a perfect holiday spot for international visitors.
Ethiopian Airlines announced in June it will fly to Mombasa twice daily, further raising the stakes for KQ.
Kenya signed the open sky agreement to improve connectivity across the continent and make it more affordable, which has seen the national carrier face tougher competition on its backbone African routes.
Source : BuisnessDailyAfrica.com